The scripts were flipped at Carlisle earlier this month as students took on the role of "teacher" with groups of adults.
Aimed at helping adults feel more comfortable using their iPhone, four eighth-grade students taught a class titled "Making the Most of Your iPhone."
"It's like growing up learning a language versus learning one when you're older," explained Zach Souther about the learning curve most adults face when picking up a new device. Technology is second nature to these students, growing up with it from birth, but for others, simple tasks can be more challenging.
Souther along with Anika Banerjee, Eyad Hamdy and Naomi Tsehaye held two classes in which they imparted their knowledge and technical skills to an older generation.
In developing their lesson plan, they brainstormed what they found most useful about their iPhones and decided to focus their class on those functions. They covered basics, such as connecting to WiFi and navigating the Settings menu. They also shared tips on texting and Facetime, and even covered a few safety concerns when it came to using your iPhone. Taking up a large part of the class were lessons on downloading and using various apps, such as Facebook, Instagram, YouTube and the Weather Channel.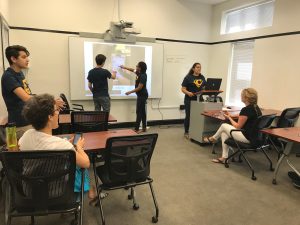 In addition to hands-on instruction and help, they created a slideshow that featured step-by-step instructional videos to best demonstrate the lessons.
Paula Warner, their Computer Science teacher, was there to lend a hand if need be, but she said most of the work that went into the class was done on their own.
"I think they did a great job. They were very responsive to their audience and handled any issue that came up," Warner said. "Honestly, I had no doubt they could do it and do it well. I expected them to knock it out of the park, and they did."
Janet Hudgins, one of the "students" of the class admits to being more comfortable and excited about exploring her phone following the class.
"It's amazing what these phones can do," she said. "I know I'm not the only 'old person' who can learn more about them."