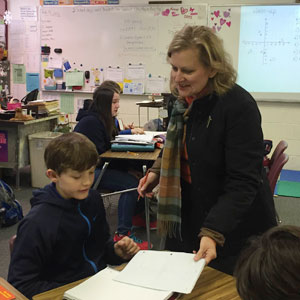 Name: Joanna P. Keyser
Title/Courses Taught: Math Department Head; Pre-Algebra and Algebra Teacher in the Middle Division
Year I Started Teaching: January 1985
Year I Started at Carlisle: 1999
Education: B.S. Radford University, Teacher Education
Married:  32 years to husband, Steve Keyser
Children: Sarah Beth Keyser Morrison, son-in-law Greg Morrison and Zachary Keyser
Pets: Golden Retriever- Marigold- 11 ½ years old!
Interests/Hobbies: baking, crafts, sewing, reading, spending time with family, thrifting, adult coloring books, and spending time outdoors
Teaching Approach/Philosophy: I approach teaching that all students have strengths and weaknesses so it is my job to push them to be the best that they can be while at the same time developing a positive relationship to show that I really care. I strongly believe that with a strong work ethic and support system, all students can experience success no matter what the challenge might be for a student.
Favorite Part of Teaching: My favorite part of teaching is when I have the opportunity to motivate a student that didn't believe in himself/herself and after words of encouragement and motivation, you see such progress and growth.  I also enjoy getting to know the students and watching them mature and grow throughout their years in middle school.
What I Hope My Students Learn: I hope that my students learn as many math concepts as possible, but most importantly that no matter how challenging the problem is in life, I want my students to always remember my constant and repeated phrase, "never give up!" I teach math as a way to think and reason to solve problems and to connect these skills not only in the subject of math, but in life as well. Each day I try to weave life lessons into my math lessons so that the students can be well rounded, productive and caring citizens in the world.