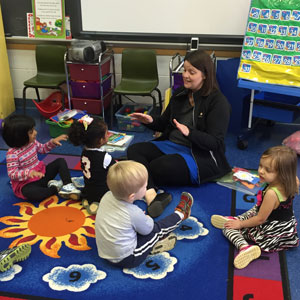 Name: Ivey Gunn
Title/Courses Taught: Preschool 2 Teacher for Martinsville and Danville Campuses.  First Grade Aide on Martinsville Campus. Preschool Aide on Danville Campus.
Year I Started Teaching: When I was 5 years old in my mom's classroom!
Year I Started at Carlisle: 2009
Education: B.S. Hospitality Management, East Carolina University 1999
Family: Married to Craig Gunn with three children – Will, Sadie and Malorie
Pets: Shylow the dog.
Interests/Hobbies:Reading and Scrapbooking
Teaching Approach/Philosophy: Read aloud 15 minutes to the children a day and give them lots of experiences to build on!  
Favorite Part of Teaching: I love to see the students engage with their peers and teachers by playing, communicating and participating.
What I Hope My Students Learn: I hope the children learn to share, listen and be kind to one another. Follow the "Golden Rule." I hope they learn to love to learn in their environment.