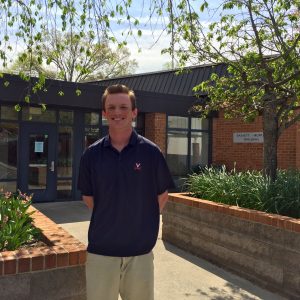 Caleb Tisdale, a senior at Carlisle School, was selected to receive the Jefferson Scholarship at the University of Virginia.
This prestigious scholarship is intended to cover the entire cost of attendance plus supplemental enrichment programs for four years at the university. It is awarded by the Jefferson Scholars Foundation to students after a rigorous selection process. Participating schools nominate seniors who exemplify the Jeffersonian ideals of leadership, scholarship and citizenship. Once nominated, students are then evaluated by their transcripts, activities, essays, recommendations and interviews. Only 120 finalists are invited to the Jefferson Scholars Selection Weekend where they participate in seminars, written exercises, math and logic exams, and interviews. The foundation then selects those who will receive the Jefferson Scholarship.
"When I was first nominated, I was thrilled," Tisdale recalled. "I know that just being nominated by your high school is a huge honor, and I was grateful for the opportunity. I hoped to make it all the way to Selection Weekend, but I never really expected to end up there. I especially never expected to be chosen as a Jefferson Scholar. I keep rereading the letter just to make sure that it is real."
Each step of the selection process is a feat, evident by the fact that in 2016, 1,825 students were nominated, 120 finalists were invited to Selection Weekend, and only 34 Jefferson Scholarships were awarded.
Tisdale, who has a 4.34 grade point average, has been involved in the Student Council Association from the Middle School through his junior year, replacing that obligation his senior year with serving on the Honor Council. His course load since his freshman year has been comprised of Advanced Placement and Honors courses, in addition to his extensive extracurricular commitments. He has played the violin and viola for 12 years, performing as a member of the Roanoke Youth Symphony Orchestra as a junior. He has participated in multiple theatrical performances at Carlisle, and is a member of the Zip Zap Zop theater group, Varsity Baseball team, Carlisle Mentoring Program, Chick-fil-A Leader Academy, and serves as a Pleasant Grove UMC Church Council Representative. He was chosen by Carlisle faculty to attend the Hugh O'Brien Youth Leadership seminar and Boys State, and to receive the Rotary Youth Leadership Award.
While Tisdale had already chosen UVA as his preferred school, being named a Jefferson Scholar has only made his final commitment to the school easier.
"I was first attracted to the University by the history of the institution and the academic excellence as well as the broad range of extracurricular activities," Tisdale said. "I always enjoy my time spent on grounds and I can't wait to spend the next four years there."
Tisdale intends to study either Political and Social Thought or Foreign Affairs. He is the fourth student from Carlisle to be named a Jefferson Scholar.