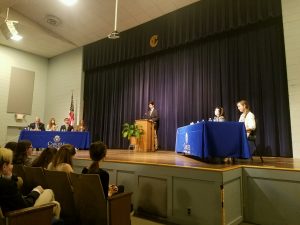 By the time Carlisle students enter college, writing research papers is second nature. It has been ingrained in them since Lower School. But there is one research paper that stands out for most students, and that is Eighth Grade Forum. Anyone who has attended Carlisle for the eighth grade is familiar with the countdown to Forum, mainly the dreaded presentations. Twenty- four eighth graders survived the process this year, which culminated in the presentations March 1-3.
Forum begins in December as topics are assigned and students begin their research over Christmas break. Typically topics are chosen so that students have to research and argue for opposing sides of an issue, but sometimes stand-alone topics are given, as well.
The first set of notecards is due in mid-January, and a first draft is due at the end of January. With many drafts in between, and much class and homework time spent writing and rewriting, doing additional research, and even interviewing subjects, the final paper is due mid-February, and the written speech at the end of February. Students then deliver their speeches in front of the entire Middle School, teachers and parents, followed by a series of questions from a panel comprised of Carlisle alumni, Carlisle seniors and members of the community at large.
Linda Gibson, who has taught at Carlisle since 1988 and has been a part of Forum since the first class in 1990, explained the importance of Forum in the development of students.
"We are trying to teach organizational skills, communication skills and how to prove a point, how to line up evidence that makes your case in whatever field," she said. "I tell the students that whatever you do in life you will need the ability to organize information and present it to some audience in a coherent and convincing way. If they can learn that, they will have picked up some valuable skills."
Eighth grader Hadden Probst was assigned the pro position on single-sex education, a topic she admitted knowing nothing about at the start. Having to write an argumentative paper made it particularly difficult, she said, since she had to be very specific in her research. Like most students, she was concerned with the speech and questions, but in retrospect realized they were not as difficult as expected. She said that after all the research and time she and her classmates committed to the project, "I think everyone was prepared with the questions that the panelists asked."
With each passing year, Gibson said that the process of identifying reliable sources and taking notes gets more difficult for students. "Because there is so much information out there at a push of a button, it is easy for students to just cut and paste or nearly cut and paste without having to do much real thinking and synthesizing of information," she explained. "It is difficult for them to learn how to do this since nearly every topic has websites out there with [articles titled] 'Ten Reasons Why XXX is True' or 'The Best Way to Think about YYY.' Voila, the paper is right there!"
Much class time is spent discussing research techniques, note taking, proper citation, and creating outlines and notecards. Gibson said she has "former students in college tell me often that the Forum process is where they learned how to do research and write and rewrite factual papers." While the process is tedious and time consuming, the hard work certainly pays off as the students enter the Upper School and college armed with these valuable lessons.
2017 Forum Topics
Nobel Prize Winners

DNA Today
Dylan's Nobel
Juan Santos' Nobel
Native American Land Rights
Native Americans Own It
Building the Pipeline
The Drones Are Here
Domesticated Drones
Drones in Uniform
Whither the Second Amendment
The Right to Keep
No Right to Keep
The Big One: Immigration
Rules for Immigrants
The More, the Merrier
Cuba/United States Relations
Cuban Embargo Must Remain
Free Cuba Now

Robots and Self-Driving Cars
"Look, Ma, No Hands"
Robots Are Your Friend
More Robots
Education Technology
High Ed Tech is the Best
Basics Are Best
Education for Women
Singler-Gender Colleges
Coed Ed Works
Tragedy of Child Labor
Contemporary Child Workers
Riis and Hine Revealed Child Labor
Drugs: Legal and Illegal
Legal Marijuana, What's the Story?
Opioid Epidemic is Here